RockJock 4x4 by John Currie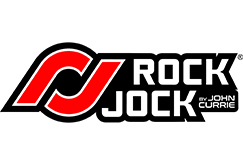 Dealer for the full line of RockJock 4x4 by John Currie's premium products, made in the U.S.A.!
Johnny Joint Rod Ends, Steering Products, Sway Bars, Suspension Kits.
RockJock by John Currie's roots run deep as jeeping has been a love of the Currie family for decades. In his off-roading adventures, John pushed the limits of his vehicles coming to the realization of the shortcomings of the equipment. Thus, it became John's goal to design and build the best-performing, strongest, most durable products on the market. A Jeep suspension upgrade product line was first developed in the 1980s based around Jeep CJ and YJ vehicles. Fast forward to 1998 and John's off-roading passion evolved into professional rock crawling competitions. In 2001, John Currie took home the 1st place trophy in the Extreme Rock Crawling Championship Series, in a RockJock equipped Jeep TJ Wrangler. This was the first of many victories and championships for John and for many, various RockJock equipped vehicles in numerous rock crawling, Ultra 4 and desert racing categories!
RockJock continues to progress and innovate as new platforms of vehicles are introduced. From the JK Wrangler, the JL Wrangler, the JT Gladiator as well as the all-new Bronco, John Currie personally continues to design, build, test and sell the finest, cutting-edge, high-end suspension, steering and towing components available.
Click to View RockJock 4x4 Offerings