Calvert Racing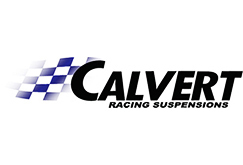 Since 1991 Calvert Racing has been helping racers across the world tune in their factory suspension vehicles.
HOW IT BEGAN: John Calvert tried all kinds of racing before deciding to concentrate on drag racing because it focused on the skill and reflexes of the driver and the performance of the car. He bought his first stock race car, a 1957 Ford Fairlane, and won his first round in 1970 at Edwards Air Force Base in California.
John drove his 1968 Cobra Jet Mustang at the 1991 Winston World Championships, taking the title and setting the sportsman stock race world on fire. John is often crediting with reigniting interest in stock car racing at that moment.
Learning from other drivers and sharing what he himself learned with other enthusiasts. John opened Calvert Racing Suspensions in 1991 out of his garage. The Calvert plant is now located in Lancaster, California, and holds several patents. They manufacture the CalTracs Traction Bars, Three-Link Kits, split mono leaf-springs, shocks, wheelie bars, and other suspension race parts designed specifically to improve racing times and address some of the issues that stock car racers face in street, strip or drag racing.
Calvert Racing Suspensions dyno tests every rear shock, checks each threaded insert for CalTracs systems, wheelie bars, and all manufactured and custom parts to ensure quality, consistency, and spec accuracy. Every set of split mono leafsprings and mono leafsprings is arch verified before being shipped to our customers.
Installation Guides, most of them illustrated, are included for CalTracs, CF/CR Series shocks, Adapters, Hangers, Perches, Lowering Blocks, and other popular parts.
Click to View Calvert Racing Offerings