Endeavour Engineering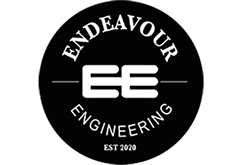 Endeavour Engineering is a specialist Mount Maunganui-based manufacturing shop, owned and directed by husband-and-wife team, Isaac and Caitlin Holmberg.
We have a real passion for mechanical precision, and we love what we do!
Isaac has over 15 years' experience across all aspects of mechanical engineering. With project cars and a boat of his own, he's had the opportunity to push the boundaries of his craft over the years, designing, manufacturing, testing and ultimately using his own high-performance components.
Now we have a solid reputation on an international scale for producing outstanding quality components and parts. We're especially renowned in the automotive sector, by an audience who demand nothing but the best in performance and precision.
Being a relatively small shop, Endeavour Engineering is very flexible in terms of job size – we will happily create a one-off component or produce a run of 100+. You can be sure that each part we make will get the same high level of expertise and care that's given us such a great reputation.
We provide services for industry nationwide, and for all marine or automotive needs here in NZ and internationally. Steel, stainless, alloy, plastics – you name it, we can machine or fabricate it.
Click to View Endeavour Engineering Offerings